Ryan and Angela's European Vacation:
March 17 and 18

In January 2002 I saw a banner ad on the Chicago Sun-Times' web site advertising cheap fares to Europe. I asked my sister Angela whether she would be interested in going, and she agreed it sounded like fun.

The ad offered fares to forty different destinations in Europe, all with a free two-night hotel stay in London. We eventually decided on Geneva, with the idea that we could go skiing somewhere in the Alps. We scheduled our travel for March 17-25.
---
Our flight left Chicago O'Hare at 8:15pm March 17, and we arrived at Heathrow Airport outside London at 10:00am March 18 after eight hours of trying to sleep on a plane. From there we took the underground (subway) to our hotel, the President Hotel near Russel Square, which was probably at least a half hour ride. Fortunately, we had missed rush hour so the underground wasn't too crowded.
Angela was tired from the overnight flight and took a nap while I, ready for lunch, looked for some food. I eventually found a place where I got some fish and chips. The fish wasn't very good although the chips were ok.
After I returned and woke Ang up, we took the underground to Waterloo station, so we could go on the London Eye, also known as the Millenium Wheel. It's basically like a giant Ferris Wheel, but much slower-- it takes about 30 minutes to complete a single revolution. Although it was raining, we got a pretty good view of London: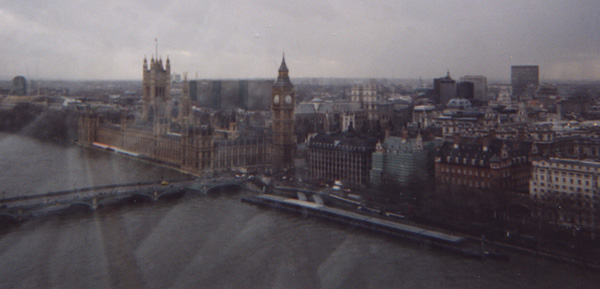 Here is a picture of Angela on the London Eye: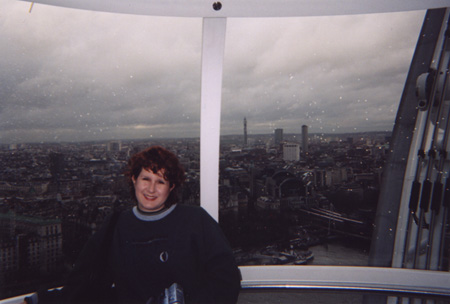 Here is a picture of Angela, a short distance from the London Eye, in front of the Thames: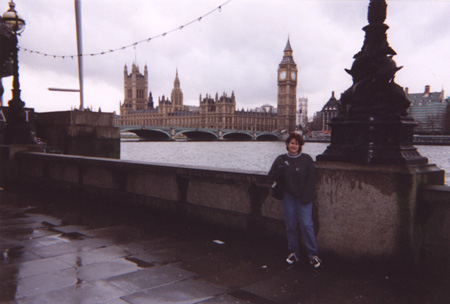 | | |
| --- | --- |
| | There was an art museum with a Salvador Dali exhibition nearby, but it would have cost money and we aren't big art fans, so we decided not to go. I did take a picture of a Dali-themed statue outside the museum however. |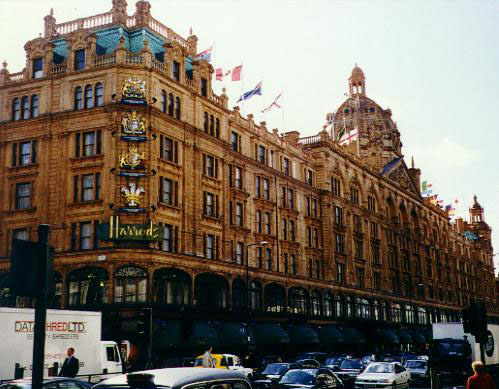 After that we went shopping at Harrod's. There are lots of expensive clothing stores in that neighborhood (Knightsbridge). Harrod's itself is also quite posh and features many many different rooms on each floor (there are five floors and a basement in total I think, though you can only access the fifth floor certain ways). Each room has a theme. For example, there is a rug room, a CD/DVD room, an Egypt room, and a patio furniture room. It reminded me of the House on the Rock except that you can buy everything.
I was disappointed with the CD selection at Harrod's. As a fan of so many bands from England, both popular and obscure, I had been looking forward to checking out the selection at an actual London CD store. Unfortunately, Harrod's had basically the same uninspiring selection of CD's that you would find at your typical Wisconsin Wal-Mart or Target. As it turned out, we didn't stop at any other CD stores on our trip, so I'll have to wait for my next trip to England to find obscure CD's by the likes of Skids, the Soft Boys, Spizzenergi, and Stiff Little Fingers.
Anyway, I was too hungry to do any serious shopping at Harrod's, so I didn't buy anything there (Angela bought two CD's). An employee at Harrod's recommended a nearby restaurant called "The Stock Pot" for supper, so that's where we went. We had a little trouble finding it since we had been given a street name, and there aren't any street signs in London. We eventually figured out that the street names are on the sides of buildings near street intersections. Supper was good.
Click here to go on to March 19